MEMBER BENEFITS
Fox Valley & Construction Industry Funds
Step-1:  go to www.groupadministrators.com
Step-2:   click on the "PPO Provider Network" icon on the left navigation bar to check if a provider is participating in the network.  Scroll down to find your network then click on the network icon to be linked to their website.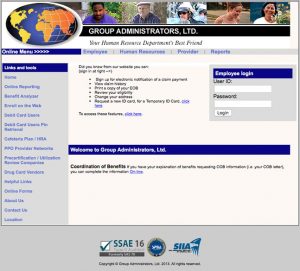 LOG-IN INSTRUCTIONS
Step-1:  go to www.groupadministrators.com
Step-2:  click on "EMPLOYEE" in the top "ONLINE ACCESS >>>>" bar
Step-3: enter your Insured ID number from your health plan ID card
Step-4:  enter your Password (IMPORTANT – for initial log-in enter the last 4 digits of your ID number)
Step-5:  read the Privacy Statement and click on "I Accept" to continue
CONTRIBUTION HOURS
• click on the "Contribution Hours" icon on the left navigation bar to view a summary of your contributed hours
• click on the month to view the breakdown of hours contributed on your behalf
ELIGIBILITY INFORMATION
• after logging in select the person you want  to inquire about
CLAIM INFORMATION
• click on the "Claim Information" icon on the left navigation bar to display the claims for the selected person
• select the claim number you want to view and click on it to display greater detail.  You can also print an  Explanation of Benefits (EOB)
MEMBER SERVICES
• click on the "Password Maintenance" icon to change your password
• click on the "Request ID cards" icon to request a new ID card
• click on the "Email Profile/Notifications" icon to receive email notifications regarding account issues or to be notified when Explanation of Benefits (EOB) are available.  Enter your email address and select what notices you wish to receive.
This reciprocity request form is for Local 11 Members that have worked outside their area and need to confirm their hours are counted towards their benefits. By filling out this form and submitting it to OPCMIA Local 11 with your information you are giving Local 11 the permission to manually enter the required information into the paper form and submit it to the fund office in your place. You must fill out all fields, check the "legal statement" box below, and fill in the security check. Thank you.
MEMBER INFORMATION
Enter your information in the fields below. All fields must be completed.
CONSTRUCTION INDUSTRY & FOX VALLEY FORMS
LAKE COUNTY TAX DEFERRED FUND